I decided to do this because there is a lot of cultural significance to certain Korean foods but we are usually unable to appreciate that until we are in Korea itself.
Inkigayo Sandwich
First up, the Inkigayo sandwich. Inkigayo is a music show on Korean television, where idol groups and singers will perform on and compete. Hence, fans often flock to the filming studios of Inkigayo to catch a glimpse of their favourite idols. They often see their idols holding a particular type of sandwich, which is the Inkigayo sandwich. It is usually sold in the Inkigayo cafeteria but has since seen convenience stores like GS25 conceive their own version.
My first taste of it was when my Basic Korean teacher gave it to the class as a gift. It contains blueberry jam, egg mayo and either coleslaw or tuna. The mix of ingredients sounds weird but it is absolutely a banger. Try it if you ever visit Korea!
Makgolli Bread (rice wine bread)
Next up, this is Makgollli Bread (rice wine bread) that I found in Sokcho Central Market.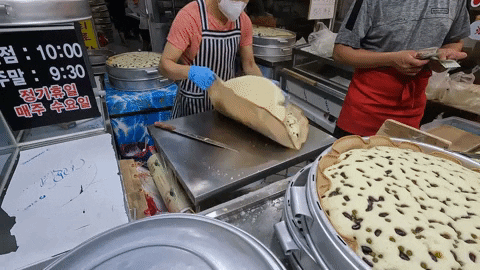 It has been touted to be easier for digestion due to the addition of rice wine.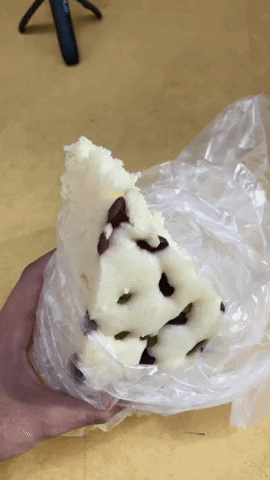 I like how it is so fluffy and sweet.
Korean Mee Hoon Kueh: 수제비 (soo-jae-bi)
I've heard of this dish so I hunted it down when I was in Daejeon. This is 수제비 (Korean hand pulled dough noodle soup), or Korean mee hoon kueh as I like to call it.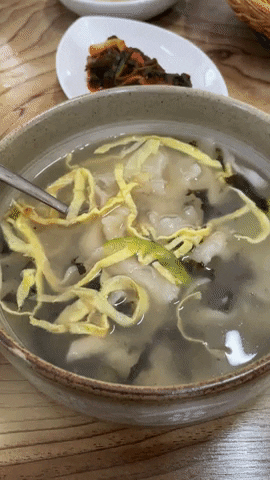 Their version has a much more peppery soup but I really enjoyed it. (Mee Hoon Kueh is a Singaporean dish consisting of hand pulled noodles in soup).
찜질방 Food (Korean Bathhouse food)
The quintessential foods you should get at a 찜질방 (Korean sauna): instant ramyeon, baked eggs and 식혜 (malted rice drink).
Supporting overseas Singaporean entrepreneurs: Desert Merlion
On a weekend trip to Seoul, we visited Desert Merlion, a cafe in Hongdae serving Singaporean food so I definitely had to swing by and support my fellow Singaporean!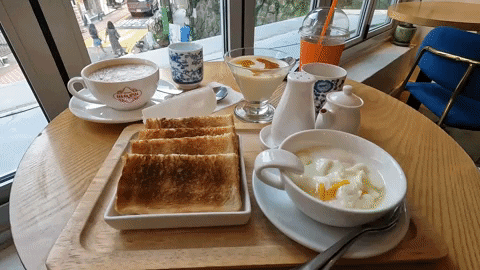 In fact, this place is such an iconic Singaporean spot in Korea that PM Lee Hsien Loong visited this cafe back in 2019!
Dancing cooks at Jeju Island's Dongmun Market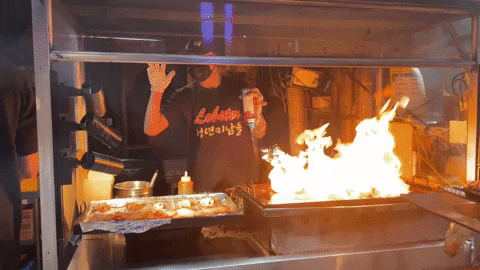 This was in the Dongmun Market in Jeju Island. I was so enthralled by how the cooks could dance and do fire tricks while grilling the lobsters.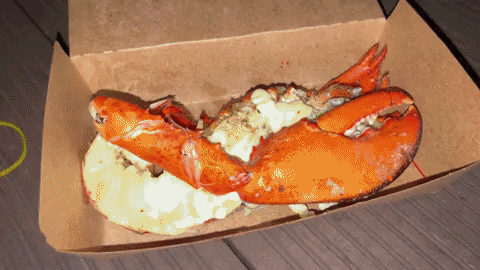 Half a lobster costs 9000 KRW, which is quite bang for the buck.
Best restaurant on Earth: McDonald's
Last but not least, I swung by the local McDonald's and tried their Green Tea Pork burger, which was made in partnership with their local farmers.
Needless to say, I finished every bit of it!
BONUS
Do check out this Singapore Singing Room when you're in Daejeon. I have no idea why it was named Singapore but that was what it showed up on the map and in person. It is a really nice karaoke place that I frequent with my fellow KISS friends.