It was a mad rush to try and get all of the requirements delivered: posters, videos, thesis and our prototypes. Two of each in fact, as our theme has two groups. Speaking of two, we have to present our product twice: one to the directors and managers at Cainiao on Thursday & the other to our classmates and ZJU staff on Friday. To top it all off, the presentation at Cainiao has to be in chinese for the directors and managers to understand what we are saying. For some of us, explaining complex terms in chinese is our Achilles heel.
Surprisingly, the could understand what we are explaining! (mostly). They concluded that they liked both of our ideas and prototypes, although there were questions e.g. how they could be implemented on a wide scale; how much of a cost benefit do they bring. As a reward for our hard work over the 3 months, they presented to us some awards!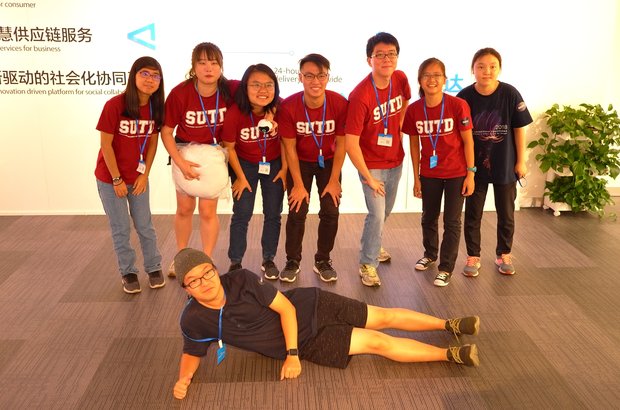 All of us looking fabulous.
not pictured: The weight of the award. It is an absolute unit.
Friday's presentation went smoothly as well. Fortunately, we went first, which means we had time to bask in the awesomeness of our friends' presentations! As by this point, we were more interested in what our friends came up with than telling others what we were doing.
Also, dinner!
To end off the night, we went and play an escape room! The main plot was that a collector of exotic paintings inquired about a historical piece which was claimed to be haunted. Of course, he didn't believe it and bought it anyway. Suddenly, mysterious events happened in the home which resulted in the death of the collector and his daughter. It is now up to you to determine if the painting is haunted or not(spoiler: it is).
On Saturday, our professor treated to all of us lunch at a nice restaurant, congratulating us for successfully completing our work with Cainiao! That makes 2 meals in a row we had eating great food! Time to watch our diet for the next few days.
All in all, this experience was great for us. We went to many different places and learnt many new things about China and the delivery industry as a whole. We as theme 2 would like to thank SUTD, ZJU, Cainiao, our mentors, Pr and TAs for guiding us along this incredible journey!